So you read my movie/TV Honorable Mentions list for 2018 (or maybe you didn't).  Regardless, now it's time for me to list out some books and comics that didn't make the favorites list but I still want to talk about in some way.
Let's do books first, then I'll do some comics.

Origins – Dan Brown – This is Brown's latest Robert Langdon novel. *Long loud sigh* I really liked the first two Langdon books, Angels & Demons and The Da Vinci Code. I really didn't like the third book, The Lost Symbol. I kind of liked Inferno, especially in how it ends the book with the implication that Langdon didn't actually save the day. But rather than another Langdon sequel, I've longed for Brown to write more standalone novels akin to Deception Point and Digital Fortress. Instead, we get this book, which addresses *NONE* of the consequences of the previous book that I thought were so interesting. There was even a spot at the end of Origin where Inferno could actually have come up. But it doesn't. Consequently, I hate this book with the lava-like fury of Apokolips itself.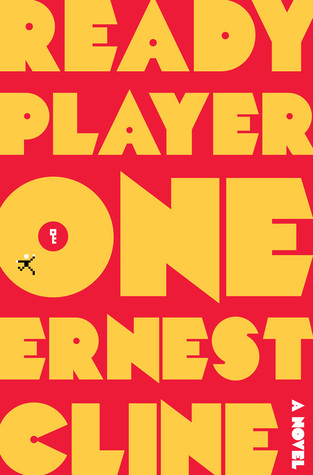 Ready Player One – Ernest Cline – I wanted to talk about this in my previous list, but it was my third re-read of the book, so it was ineligible. This book has had an interesting journey for me. I *loved* it the first read. Then I listened to Wil Wheaton's audio book version and I almost hated it. Then this particular re-read I swung back around to liking it again. I have some issues in the beginning, particularly with characterizations of certain people but I love how the world is setup and I love the Oasis.  And the mechanics of the egg hunt.  I'm looking forward to the sequel that Cline is supposedly writing.

The Oracle Year – Charles Soule – I've talked enough about stuff I didn't like. How about something I *did* like that very nearly made my favorites list?  I'm a fan of Charles Soule's comic book writing.  So I was very interested when he released his first novel.  The premise is: one day, a young man wakes up with 180 prophesies in his head.  He writes them down and with his friend, tries to figure out how best to use them.  He starts a website to keep himself anonymous, it becomes a sensation and suddenly he's dealing with multinational corporations and governments that will stop at nothing to learn his secrets.  It's a pretty engrossing read that I enjoyed all the way to the end.  No, it doesn't answer every question I maybe would have liked answered, but it did its job and I really liked the book.  I'm looking forward to any more novels Soule wants to throw our way.

The Magic Kingdom of Landover Volume 1 – Terry Brooks – I have this omnibus that contains the first three books in the series. I didn't read all three of them last year. Just the third one. And while none of these three books made their respective years' favorites list, as a group they are actually pretty good.  It's an interesting take on fantasy.  A lawyer, sick of living the "lawyer life", wants to get away.  He finds an ad squirreled away in an auction catalog for the purchase of the magical land of Landover.  He's intrigued, gets his affairs in order, buys the land and travels to Landover, which exists in a different reality, to become its king. And it's nothing like he had imagined.  I enjoyed the characters Brooks created in this series as well as the land of Landover itself.  And the rules by which the King of Landover must live.  It's a fun three book cycle that has two more books in a second omnibus and a sixth book that was released several years ago.  I hadn't originally planned on it but I'll probably try the fourth book at some point.
Now on to comics.

New Super-Man Volume 1: Made in China – This was a total surprise to me.  I didn't understand the point of this. Then, I actually thought I'd give it a shot because the more I thought about it the more I was intrigued where they were going with this.  And it's actually pretty good.  China, feeling like they are falling behind in the super hero department find a way to duplicate powers in certain human beings.  So they create their own Superman, but will they live to regret the person they chose to *be* New Superman?  This very much reminds me of Greg Pak's Totally Awesome Hulk.  It's fun and funny.  I liked it a lot more than I expected.  Looking forward to volume 2.

Daredevil Volume 1: Devil at Bay – This is Mark Waid and Chris Samnee's initial run on Daredevil.  If you remember, I put Waid and Samnee's Black Widow series on my year end list back in 2017. I said then that I need to check out their previous Daredevil run. So I did. And I didn't like it. I love both these guys, but I just couldn't get into this run. I think I just don't like Daredevil. I had a similar problem getting into Frank Miller and Klaus Janson's run on Daredevil and that run is revered by many comics fans.  I don't know what to tell you, I tried.  The Charlie Cox Netflix series is great, but I just don't like Daredevil comics, I guess.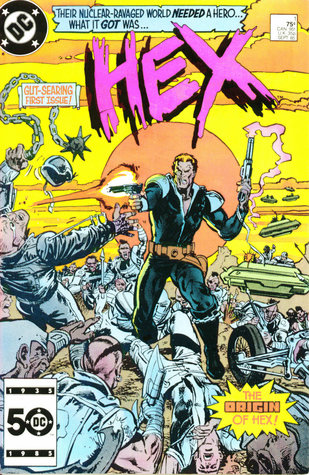 Hex – This was a 1985 reboot of the western character Jonah Hex. I had a few issues of this I bought off the rack back in the day. I was intrigued by the post apocalyptic premise featuring the formerly western hero. It ran for about 18 issues back in 85-87.  I read the first 6 last year.  I'm hoping to read the next 6 this year.  It takes place in the distant future but somehow Batman shows up in issues 11-12.  I have to know how that happens.  Anyway, it's essentially Mad Max meets Paladin: Gun for Hire.  Jonah Hex wakes up in the distant future.  It's post apocalyptic, after the third World War.  Hex is part of some rich guy's zoo, but he escapes and roams the land helping out people and fighting off mutant bikers.  It's not bad.  It's different.  I won't say it's excellent, but it's definitely an entertaining read.