I started comic collecting back in the mid 80s. I still have my entire collection in a filing cabinet and a longbox sitting in my garage. I thought maybe I'd go through some of those issues and find long lost gems and sort of spotlight some characters and issues that I've always been fond of.  Today's character is the perfect place to begin this quest.
Recently while digging through my comics I re-discovered a comic that I got WAY back in the day. It was called Bolt and Starforce Six #1.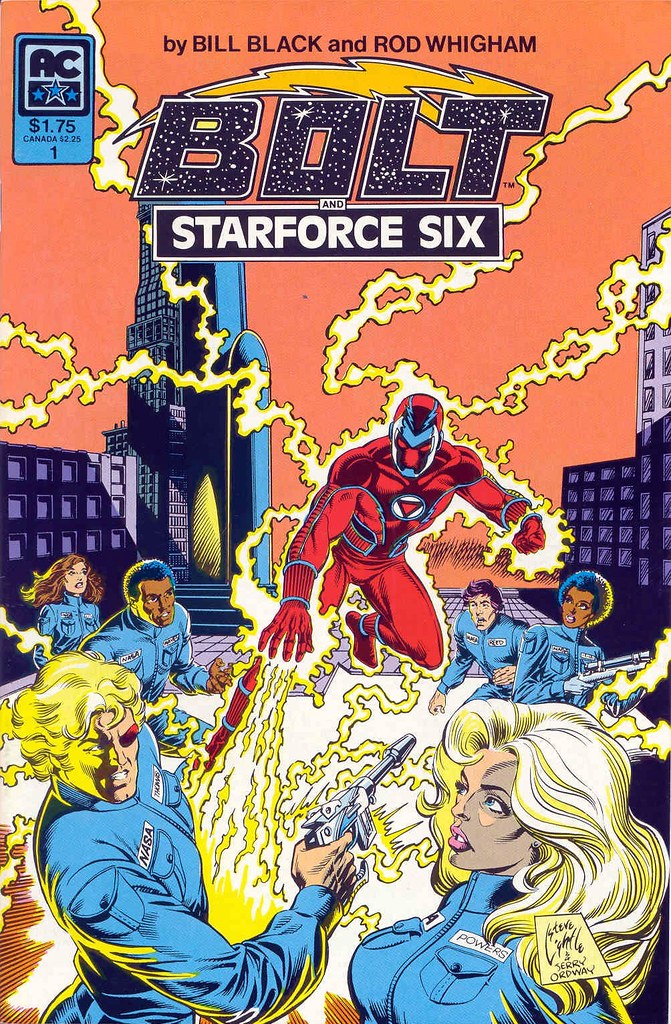 It was published by AC Comics in 1984.  AC Comics may not sound familiar but they made a name for themselves publishing Femforce which was a huge indie hit in the 80s-90s.  For a while in the early 80s they also had the rights to publish comics featuring Charlton super heroes right before DC bought them out.  AC would create the super team Sentinels of Justice featuring Capt Atom, The Question and Blue Beetle.
I happen to love the sh*t out of this Bolt cover, btw, which is probably reason #1 that I had a small obsession with this issue.  The cover itself was drawn by industry vets Steve Lightle and Jerry Ordway.  Inside the comic was written by Bill Black and drawn by Rod Whigham.
I don't remember how I acquired this particular issue.  I ordered a lot of comics through the mail from Mile High Comics which required you to choose alternate books if one you wanted wasn't in stock.  Also, if you ordered a certain amount Mile High would send you free comics or other comic book related ephemera.  That's one way I could have gotten it.  Alternatively, I could have found it in the bargain bins of my local comic shop in the late 80s and decided to take a gamble after falling in love with the striking cover.  I honestly don't remember.  But after I had the issue, I sort of fell in love with it.  And most of that was with the character Bolt.
The story begins with some astronauts up studying space debris when their "video radar" is damaged. Mitchell Cameron goes out in an experimental radiation suit to fix said "video radar" and is engulfed in what is described as "the enigma cloud".  One of his astronaut colleagues SHOOTS A LASER at Mitchell to try to disperse the "enigma cloud" and winds up causing a reaction that fuses the suit onto Mitchell and turns him into a being of pure energy with incredible light and energy powers.  The government would of course see him as a threat (as they tend to do) and send out their best super team, Starforce Six to try to retrieve and capture him.
It's mostly an okay story but the Bolt character design is kind of awesome.  I love the red and blue suit and I'm a sucker for "energy powers" (notice all the quotes?  It's an 80s comic, guys, filled with lots of 80s-ness).  And Bolt is pretty cool in the story, unfortunately, as far as Starforce Six goes, they couldn't be more boring, horrible cliches.  Just dumb.  Their team uniforms are powder blue jumpsuits.  One guy has an eyepatch.  It's just awful.
Well, after falling in love with this issue I looked for YEARS and was never able to find a Bolt and Starforce Six issue #2.  Bolt just sort of disappeared from the comic landscape.  Never to be seen again.  Or so I thought.
Just a few years ago, while randomly searching comics I discovered THIS:
Bolt Special #1.
Discovering this sort of stopped me dead in my tracks. My brain hitched.  It was like discovering Noah's Ark in my local Wal-Mart. I was like, "WHAT. THE. F**K?!"  Before my brain could melt out of my ears, I grabbed the comic and greedily hid it away like I was Gollum in LoTR.  NO ONE was going to get this from me (I didn't really stop to think and realize that NO ONE was looking for this comic which is why it had been sitting where it was since Reagan was President).