Rediscovering AC Comics' Bolt from 1984
I started comic collecting back in the mid 80s. I still have my entire collection in a filing cabinet and a longbox sitting in my garage. I thought maybe I'd go through some of those issues and find long lost gems and sort of spotlight some characters and issues that I've always been fond of.  Today's character is the perfect place to begin this quest.
Recently while digging through my comics I re-discovered a comic that I got WAY back in the day. It was called Bolt and Starforce Six #1.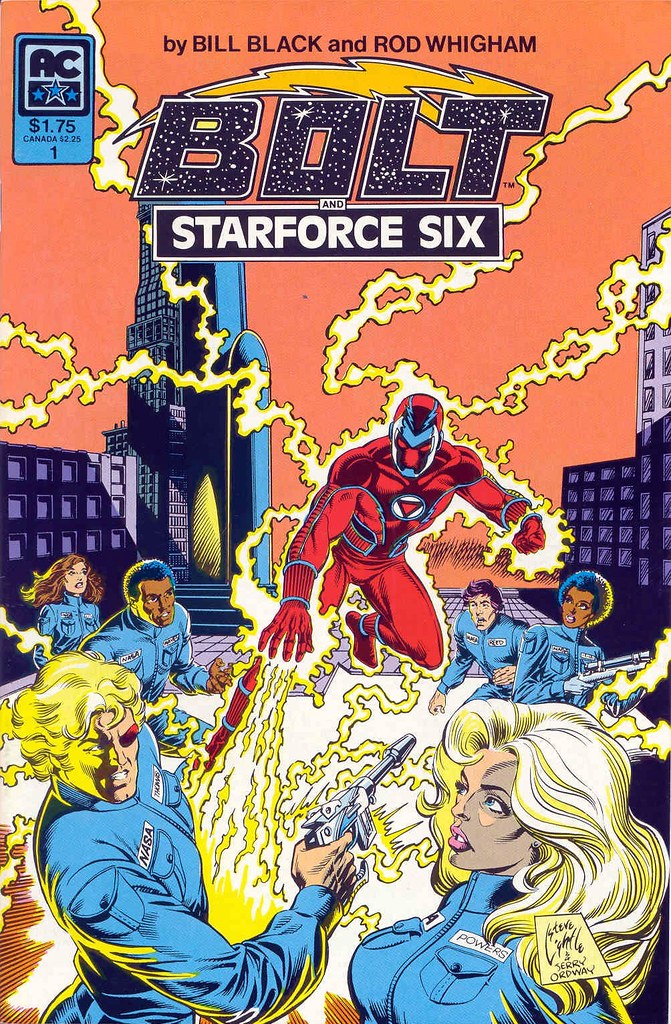 It was published by AC Comics in 1984.  AC Comics may not sound familiar but they made a name for themselves publishing Femforce which was a huge indie hit in the 80s-90s.  For a while in the early 80s they also had the rights to publish comics featuring Charlton super heroes right before DC bought them out.  AC would create the super team Sentinels of Justice featuring Capt Atom, The Question and Blue Beetle.
I happen to love the sh*t out of this Bolt cover, btw, which is probably reason #1 that I had a small obsession with this issue.  The cover itself was drawn by industry vets Steve Lightle and Jerry Ordway.  Inside the comic was written by Bill Black and drawn by Rod Whigham.
I don't remember how I acquired this particular issue.  I ordered a lot of comics through the mail from Mile High Comics which required you to choose alternate books if one you wanted wasn't in stock.  Also, if you ordered a certain amount Mile High would send you free comics or other comic book related ephemera.  That's one way I could have gotten it.  Alternatively, I could have found it in the bargain bins of my local comic shop in the late 80s and decided to take a gamble after falling in love with the striking cover.  I honestly don't remember.  But after I had the issue, I sort of fell in love with it.  And most of that was with the character Bolt.
The story begins with some astronauts up studying space debris when their "video radar" is damaged. Mitchell Cameron goes out in an experimental radiation suit to fix said "video radar" and is engulfed in what is described as "the enigma cloud".  One of his astronaut colleagues SHOOTS A LASER at Mitchell to try to disperse the "enigma cloud" and winds up causing a reaction that fuses the suit onto Mitchell and turns him into a being of pure energy with incredible light and energy powers.  The government would of course see him as a threat (as they tend to do) and send out their best super team, Starforce Six to try to retrieve and capture him.
It's mostly an okay story but the Bolt character design is kind of awesome.  I love the red and blue suit and I'm a sucker for "energy powers" (notice all the quotes?  It's an 80s comic, guys, filled with lots of 80s-ness).  And Bolt is pretty cool in the story, unfortunately, as far as Starforce Six goes, they couldn't be more boring, horrible cliches.  Just dumb.  Their team uniforms are powder blue jumpsuits.  One guy has an eyepatch.  It's just awful.
Well, after falling in love with this issue I looked for YEARS and was never able to find a Bolt and Starforce Six issue #2.  Bolt just sort of disappeared from the comic landscape.  Never to be seen again.  Or so I thought.
Just a few years ago, while randomly searching comics I discovered THIS:
Bolt Special #1.
Discovering this sort of stopped me dead in my tracks. My brain hitched.  It was like discovering Noah's Ark in my local Wal-Mart. I was like, "WHAT. THE. F**K?!"  Before my brain could melt out of my ears, I grabbed the comic and greedily hid it away like I was Gollum in LoTR.  NO ONE was going to get this from me (I didn't really stop to think and realize that NO ONE was looking for this comic which is why it had been sitting where it was since Reagan was President).
The issue is cover dated 1984, the same year as the above issue #1.  There are two back-to-back Bolt stories.  The first story has Tara the jungle girl as a guest.  She is actually a member of the aforementioned Femforce.  So, looking at this thing a bit closer I see the interior is black and white.
It's a good thing Tara is wearing that bikini while she tackles and fights that panther.  Anyway, so I'm not sure what happened.  Why was there no Bolt and Starforce Six #2?  Why is this comic black and white?  Where the hell is Starforce Six (truthfully, I don't care)?
But I did a little research.  AC Comics had developed the first three issues of Bolt and Starforce Six when they released issue #1.  However, there were a lot of production snafus with the first issue.  AC Comics sort of dual produced the first issue with a small distributor in Texas.  That distributor didn't deliver and the ones they did deliver it was noticed that the page cutting was off which ruined several pages.  So they were not able to fill all of the orders which led to orders being canceled and lots of money getting lost.  AC realized they couldn't produce issue #2 and make a profit so they cut out the Bolt part of the issue, expanded it and released it black and white as a special issue.  They did the same with Starforce Six and released their part of the book as a special issue.  However, I've never seen the Starforce special issue in person.  To be honest, I've never searched for these comics online or on eBay.  I never really thought about it.  All of this discovery just happened on it's own which is the best way to have it happen.
Anyway, the first Bolt story in this special is…..okay.  I figure this was supposed to be the issue #2 story.  Tara is a really irritating character.  She's super militant for saving animals.  Like to the point of being a raging dick about it.
Here's Tara after being told by her father's accountant that she's spending too much money buying rare animals and transporting them to their little island.  Spending too much of her father's money buying rare animals. She clearly doesn't care.
And after she tosses the TPS Reports all over the office she turns on said accountant, physically assaults him and verbally abuses him.  Like it's his goddam fault she's spending so much money.  Right after this panel she literally holds him over the outside balcony threatening to drop him to the ground.  Like I said, she's kind of a dick and a little unhinged.
When the story gets going again after Tara's outburst, it centers on Tara fighting some villains spoiling her island paradise.  Bolt shows up randomly to help.  There are misunderstandings.  Fights.  The end.  Nothing you wouldn't see in any other early 80s super hero comic.  Rod Whigham's art is pretty great even if Ringgenberg's writing is sub par.
The second Bolt story, written this time by Phil White, I assume is what was supposed to be in issue #3 of the original comic.  It starts off pretty strong.  Bolt actually takes on a pack of rabid wolves to save a girl.
Pretty good until we get to our villains.
Yeah, Bolt has to take on Lenny and Squiggy from Laverne and Shirley.  It's a little goofy tale where this computer programmer's daughter befriends Bolt and tries to get her father's super computer to analyze him and the computer rebels and tries to kill them instead.  But nothing happens.  Bolt stops them then the police show up.  Anti-climatic.  But, again, pretty great art.
So that seems to be the end of Bolt.
UNTIL, (that's right, there's more!) I discovered that two years later in 1986, AC Comics published an anthology series called Venture.  And the featured character was Bolt with 2 or 3 other characters backing him up.
As far as I know, Venture only lasted three issues.  Rod Whigham didn't return to draw Bolt's adventures HOWEVER two of the three Bolt stories were drawn by none other than Erik "Savage Dragon" Larsen.  Check out the title pages of Larsen's two stories from Venture #1 (left) and Venture #2 (right).
And yes, this anthology series was in color.  Phil White returned (Lenny & Squiggy story above) to plot and write the stories as well.  THIS would be the swan song of Bolt.  I haven't found where he's shown up anywhere else.  I don't know if AC Comics even still owns him or he was bought up by someone else.  I would like to see a modern day reboot of the character.  He looks cool, I think someone could really do some cool things with him.  Erik Larsen, you could even return and add him to Savage Dragon.  He'd fit right in!
That's it for Bolt.  Hope this was at least a little bit as interesting to you as it was to me.  I'll go randomly grabbing around in my comics for another "rediscovering" article sometime soon.
Oh, yeah, there was one Bolt pin-up in the first issue of Venture.  While Rod Whigham didn't return to draw any of these stories, he did draw this pin up.
6 Responses to "Rediscovering AC Comics' Bolt from 1984"
That's a great round-up. Sometimes more obscure characters and books like these can be more engrossing because you don't know as much about their universe and it brings you into the details of the story more.

Thank you. And yes, that is absolutely true. The mysteriousness adds to your affection.

Holy crap! I have literally been trying to figure out the name of this obscure comic for 20 plus years, ever since I had it as a kid. Thank you for writing this!

BOLT
…the Omega the Unknown of AC Comics.